Dragons of Forceria
I have been looking for stuff on the internet related to Lodoss Wars for a long time now and this is one of the gems that I managed to find somewhere in Japan. I would like to thank whoever gathered all of this information together but I don't have his URL. I have done the best I could to translate this piece so please bear with me. There are still several points I need to add but this is the main gist of it. Enjoy!

---
Dragon Data:
A dragons growth cycle
Infant Dragon
Lesser Dragon
Greater Dragon
Drakes, the God Slayers
Different types of Dragons
Dragon Eggs
The Rest Cycle of Dragons
Dragon Molting
Dragon Claws
Dragon Tusk
The Howl of Dragons
The Dragon Roar
Dragon Reincarnation
The Dragon Riders of Moss
Dragon Who's Who
Shooting Star
Buramudo
Water Dragon Eibaru
Evil Dragon Narse
Golded Dragon Meisen
Anos
Wind Dragon Waruindo
Akushizu
The Dragon Lords of Forceria:
Sky King Fuartaru
Wicked King Dragon Gurburo
Dark King Dragon Maton
Marine Dragon Marina
King Dragon Arugos with the Hundred Eyes
---
Dragon Data
The dragons of Forceria are classified as either the lower form called "Dragons" or the higher form called "Drakes".
A dragons growth cycle
Dragons are born from an egg and molt for several hundred years. Over the years it passes through three phases of development.
Step 1- Infant Dragon
Step 2- Lesser Dragon
Step 3- Greater Dragon
Infant Dragon
A dragon at the infant sate is considered a very dangerous beast. It has absolutely no intelligence at this stage and it's only desire is to eat. It consideres anything living a source for food and will attack unless it consideres it's prey too powerful.
Lesser Dragon
A lesser dragon is a dragon that has by now developed an intelligence equivalent to a goblin. By now it can also communicate and will be able to speak Karojit, the tounge of the lizardmen. At this stage they are very proud of their fighting strength and destructive power and would be able to overwhelm a giant or high devil.
Greater Dragon
An greter dragon has by now survived for hundreds of years and developed the ability to speak in several different languages besides Karojit. They are smarter then many human beings and are by now able to develop thier magical abilities.
Drakes, the God Slayers
Drakes resemble dragons but they are considered far superior in strength and power to that of a greater dragon. Ignorant human beings might even refer to them as ancient dragons or old dragons due to thier simular appearance to dragons. The lesser drakes could be considered as strong as the oldest dragons but the higher powered drakes are considered "Kings" of thier race.
The drakes were born at the same time as the Gods of Forceria were born from the body of Atsuki, the first god. Even though they are unperalled in strength and fighting ability, possibly surpassing the gods, due to thier wisdom they regard the gods as Lord and try to serve them well.
After the War of the Gods, most of the drakes had fallen in the titanic battles durring the war. The only drake known to survive is Augosu, the drake sent to slay the gods who had fled to Crystania. He was imprisoned by those gods in a cave and has slept there ever since.
Different types of Dragons
Dragons are a very ancient creatures and many have adapted to the environments that they inhabit. There are water dragons that primarily live in the oceans and lakes of Forceria, the earth dragons that live underground in caves and mountains, wind dragons who are proud of thier speed and flying ability, adn frost dragons who have adopted to the coldest places in Forceria and developed the ability to spit out a cold blast of air at their enemies. There is also the fire dragons who live around volcanoes and other hot environments who can spit fire.
Dragon Eggs
There is no such thing as the concept of "Parenthood" in dragon society. When a dragon is born, an egg is formed in the heart of a mountain. This egg is indestructable, no form of magic or physical force has any effect on it. Even Meteor Strike or Desintigration wouldn't even leave a scratch on it. After the dragon egg has hatched, the infant dragon is left alone to fend for itself.
The Rest Cycle of Dragons
A dragon doesn't need to sleep. A sleep spell or potion wouldn't have any effect. They will go from being active to going into an inactive rest term but they are still aware. As an infant dragon, this rest term is very short but as the dragon grows older the rest term increases and can even exceed hundreds of years of inactivity before it needs to become active and eat.
Dragon Molting
As a dragon grows older it sheds it skin after several hundred years as it grows stronger. Another reason a dragon wold molt is to throw off any magical restraints or curses or even to cure itself from sickness.
Dragon Claws
The claws of a dragon are inherintly magical and the dragon has complete control over it. He can throw them at his apponents and if they break the skin, cause them to burrow into their victum causing great pain or even death. A dragon would have to keep molting until the other dragons claw was out of it's body. There are certain secret dragon magics that would allow one dragon to control another through the use of one of it's claws.
Dragon Tusk
Dragon warriors seek out and collect the abandoned tusks of dragons as a sign of status. On the continent of Alecrust, a dragon tusk can be worth as much as 5000 silver pieces or more.
The Howl of Dragons
The roar of a dragon can have a magical effect on most people and can cause a complete state of panic to those that might hear it. In a situation where one would have to fight a dragon, the spell Battle Song cast by a Priest of Mairi would have to be used to counteract this effect.
The Dragon Roar
Humans use gestures and incantations or prayers in order to put themselves at the necessary mental state to visualize and cast spell magics. A dragons's mind has the capability to excersise dragon word magics and only those people whose spirits resemble a dragons are able to perform such magics.
Dragon Reincarnation
Dragons know secret magical techneques that allow them to reincarnate. This is the highest spell that a dragan may know, everything else below that is just a preperation to reaching that level. Such a feat would take a dragon a hundred years to accomplish. If a lizardman were to even try to attain that goal they would have to train for hundreds of years to reach it, even a noble lizardman would take a hundred years although the dragon magics taught to the lizardmen are considered flawed making impossible for them to learn that spell unless they were able to discover the secret teachings.
Once a dragon has died their essance would pass on to a new egg that would form. After the egg has hatched they would still have all the memories of their past lives and would be able to proceed from there. They would molt at a much faster pace, every 10 years and would pass through each phase of development at each molt until reaching full maturity.
The Dragon Riders of Moss
Dragon Knights are the most feared fighters in all of Lodoss. They are descended from the Ancient Dragon Priests and are considered proud, fierce warriors. They carry a pipe made from dragon bone that they can call reinforcements with. They are considered the strongest military group in Lodoss.
Due to the amount of time the Dragon Riders spend around dragons, they are more likely to come down with Dragon Fever, an ailment caused by the vitality of the internal blazing power of a dragon, and die young. The Dragon Riders take this as a mark of pride.

Dragon Who's Who
Shooting Star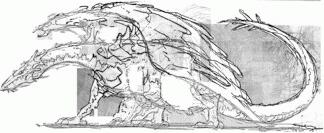 Shooting Star lives in Fire Mt. in the badlands of the Flame Kingdom. He was in charge of protecting the Rod of Control. The rod was stolen by Ashram the Black Knight, and Shooting Star was killed by Pan and Kashue who used the Spears of Mairi to defeat him.
Buramudo


Buramudo is the main ice dragon and makes his home in the icy mountain ranges of Alania. He is considered one of the strongest and oldest dragons out of all of them. He is charged with protecting the Mirror of True Sight and was awakened by Ashram of Marmo who stole the Mirror.
Water Dragon Eibaru


Eibaru is one of the oldest dragons in existence. He is charged with protecting the Spirit Crystal Ball. During his last long sleep he was interupted by Ashram of Marmo who stole the Crystal Ball.
Evil Dragon Narse


Narce makes his home on the island of Marmo and protects the Shrine of Fuararis. He is in charge of protecting the Crown of Knowledge.
Golden Dragon Meisen


Meisen didn't become famous until a human being had freed him from the spell that the ancient masters of Kastruel had set on him. After that he took that humans name as his own and become one of the most powerful dragons in Forceria. Meisen guards the Staff of Life.
Anos
Anos is one of the ancient dragons of the continent of Alecrust. He sought to create a magical contraption that would call down the Meteor of Hadoa Geraruk and have a showdown with the Founders, a group of adventurers who had found out about his plot.
Wind Dragon Waruindo
The dragon Prince Nasier of Moss rides.
Akushizu
Akushizu makes his home on the west Wiatto mountain range in the Dragonzu crater on Alecrust. He is the main master of Dragon Magic and has even learned spirit magic. He seems to be one of the most gentle characters out of all of the dragons.
The Dragon Lords of Forceria
Sky King Fuartaru
Fuartaru is one of the Dragon Kings of Death and is said to protect the west. He is rainbow colored and is responsible for light and intelligence.
Wicked King Dragon Gurburo Prisa
Gurburo is one of the Dragon Kings of Death and is said to protect the east. He is a black dragon and is respnsible for power.
Dark King Dragon Maton
Maton is is one of the Dragon Kings of Death and is said to protect the north. Maton is responsible bringing the evil people to the underworld for eternal punishment with his icy power.
Marine Dragon Marina
Marina is is one of the Dragon Kings of Death and is said to protect the south. He is the color of water and is responsible for conducting good people to the underworld for their eternal rest.
King Dragon Arugos with the Hundred Eyes
Arugos was commanded by Fararis to hunt down the neutral gods during the War of the Gods and destroy them. He was lured into a cave and sealed away forever by Urus.
---
Return to top of page
Return to main page
---